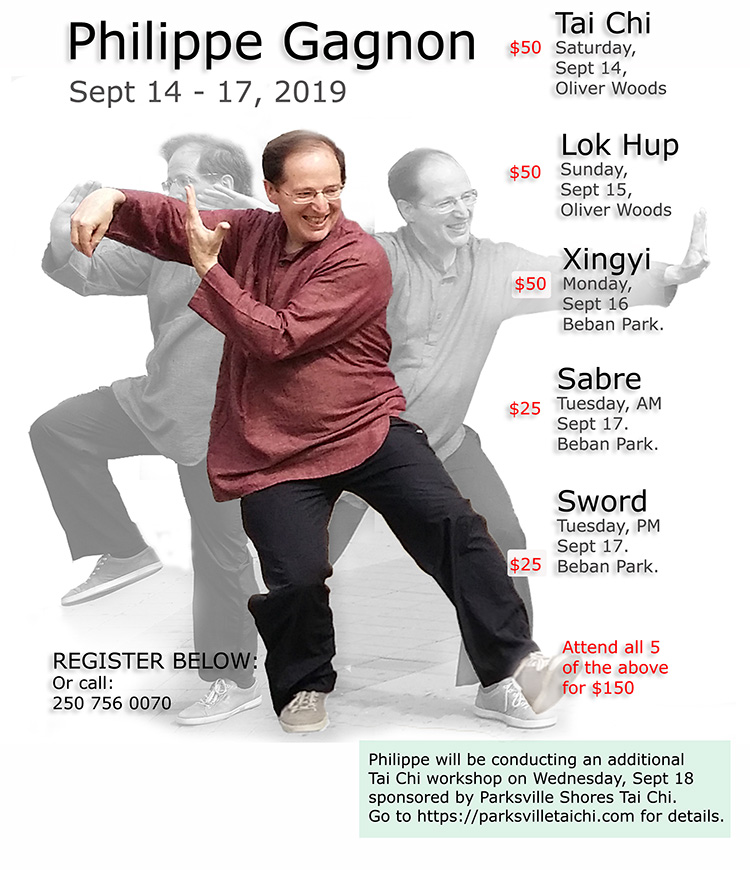 About Philippe / About Xingyi / About Lok Hup / REGISTER
TAI CHI
$50
Saturday, Sept 14
09:30 to 10:00
Check in
Oliver Woods Community Ctre, Nanaimo.
10:00 to 12:30
Tai Chi
Oliver Woods Community Ctre, Nanaimo.
12:30 to 14:00
Lunch
14:00 to 17:00
Tai Chi
Oliver Woods Community Ctre, Nanaimo.
LOK HUP
$50
Sunday, Sept 15
09:30 to 10:00
Check in
Oliver Woods Community Ctre, Nanaimo.
10:00 to 12:30
Lok Hup
Oliver Woods Community Ctre, Nanaimo.
12:30 to 14:00
Lunch
14:00 to 17:00
Lok Hup
Oliver Woods Community Ctre, Nanaimo.
XINGYI
$50
Monday, Sept 16
09:30 to 10:00
Check in
Beban Park Community Centre, Nanaimo.
10:00 to 12:30
Xingyi
Beban Park Community Centre, Nanaimo.
12:30 to 14:00
Lunch
14:00 to 17:00
Xingyi
Beban Park Community Centre, Nanaimo.
SABRE
$25
Tuesday, Sept 17
09:30 to 10:00
Check in
Beban Park Community Centre, Nanaimo.
10:00 to 12:30
Sabre
Beban Park Community Centre, Nanaimo.
SWORD
$25
Tuesday, Sept 17
13:30 to 14:00
Check in
Beban Park Community Centre, Nanaimo.
14:00 to 17:00
Sword
Beban Park Community Centre, Nanaimo.
Note: Philippe will be conducting an additional workshop in Parksville on Wednesday, Sept 18. Go to: Parksville Shores Tai Chi for details
---
REGISTRATION CLOSED
Following is a list of the workshops available with pricing.
TAI CHI NANAIMO WORKSHOPS (Nanaimo ONLY phone:250-756-0070)
COST
A
Tai Chi: September 14, 2019, Oliver Woods Community Centre, Nanaimo
$50
B
Lok Hup: September 15, 2019, Oliver Woods Community Centre, Nanaimo
$50
C
Xingyi: September 16, 2019, Beban Park Community Centre, Nanaimo.
$50
D
Sabre: Morning, September 17, 2018, Beban Park Community Centre, Nanaimo.
$25
E
Sword: Afternoon, September 17, 2018, Beban Park Community Centre, Nanaimo.
$25
NOTE: For those attending all 5 Nanaimo Taichi Workshops above, the fee will be $150 for a saving of $50.
After you have decided which workshop or combination of workshops you wish to attend, please follow the registration procedures below.
| | PRE-REGISTRATION |
| --- | --- |
| STEP 1. | Pre-register online. |
| STEP 2. | Download your registration form, print and complete it. |
| STEP 3. | The registration will be considered complete when fees have been received. |
---
---
About XINGYI
Like Taichi, Xingyi (pronounce it "sing-ee") is known as an "internal martial art". It specializes in very focused movement, coordinating the whole body in the execution of swift steps. Unlike the long and complex Taichi forms, the various movement sequences of Xingyi tend to focus on just one or a few, repeated movements. However, there are exceptions, and the sequence created by master Sun Dit, who taught it to master Moy Lin-shin, is one of them. Simply called "a Medley of Xingyi Techniques" (xingyi za shi chui - 形意雜式捶), it comprises 73 movements. But it has another special trait: in addition to standard Xingyi movements, it contains movements that distinctly belong to another internal martial art called Yiquan. Yiquan is a fluid (and sometimes "explosive") art that does away with codified movement sequences, preferring instead the practice of single techniques to focus on the training of internal movement. For example, the "Dunyu" and "Toryu" which are so central to master Moy's practice were originally Yiquan exercises. Master Sun's Xingyi form is the result of a personal effort to integrate the two arts of Xingyi and Yiquan into a single practice.
Master Sun's form was introduced in Canada by master Moy Lin-shin in the late 1980s. This transmission was beset with difficulties that were not addressed during his lifetime. Since 2013, Olivier Perron, Hubert Gagnon and Philippe Gagnon have collaborated closely to study master Sun's Xingyi form. Each brought his particular experience. Olivier, who has studied the arts of master Moy since the 1990s, has also explored traditional Hebei style Xingyi and Yiquan with reputed teachers for several years. As for Hubert and Philippe, each has trained several decades in the arts of master Moy Lin-shin, Hubert having practiced extensively master Sun's form as transmitted by master Moy, and Philippe having, in addition, met and studied Liuhebafa with master Sun himself. This collaboration enabled them to "recreate" the Xingyi form, move by move, to re-establish the proper execution of the Xingyi and Yiquan movements proposed by master Sun, while maintaining the internal movement of master Moy, and keeping the focus of the practice on improving health.
---
1 Our form thus inherited two lineages. Master Sun Dit studied Yiquan with master Liang Zipeng, who had trained with a famous student of Wang Xiangzhai, the creator of Yiquan. As for Xingyi, master Sun studied with Dr Lee Ying Arng, who was a fellow senior student of master Liang Zipeng, and had received excellent training in the Hebei school of Xingyi from Bu Xuekan, himself a reputed student of grand master Che Yizhai.
---
---
About LOKHUP
Huayue Xinyi Liuhebafa quan is the full name of the form commonly known as "lokhup", which I studied under master Moy Lin-Shin (and more briefly from master Sun Dit) between 1975 and 1998.  It means literally the "fist (form) of the six harmonies and eight methods of the heart [mind] (and) intention of the Hua mountain summit.

Legend
The mention of Mount Hua, traditionally regarded as one of the five sacred mountains of China, is a reference to Chen Tuan (also kown as Chen Xiyi), a hermit who lived there one thousand years ago, and to whom the creation of this form, or at least its fundamental inspiration, has been attributed.  Just like for taijiquan, a contemporary tradition attributes the creation of the art to a prestigious founder in remote times, leaving unexplained a historical gap lasting several centuries. The claim contain several messages – that this art is thoroughly indigenous, that it is based on Daoist philosophy and transformative practices, and that it is distinct from taijiquan, and even more ancient (and therefore constitutes a senior art). Of course, none of this can be verified, but it's not really the point.

Transmission
Wu Yihui (1887-1958) is the first historical figure to have taught lokhup openly, starting from the 1930's in Shanghai and Nanjing. He apparently had three teachers who belonged to the same school (HuaYue Xiyi men), but what they taught and where their skills originated from is unknown. One of Wu Yihui's students was Liang Zipeng, and through him the art reached masters Sun Dit and Moy Lin-shin.  Master Moy used lokhup as an important "building block" in his transformation of traditional Yang style taijiquan, making the study of lokhup an essential part of our curriculum, to better understand this unique taijiquan form.

Six harmonies and eight methods
Overall, very little has been written about the principles of Lokhup, if we compare the art to taijiquan.  Wu Yihui and a few others published indications regarding the "six harmonies" and "eight methods".  The six harmonies refer to "internal" (energy) and "external" (muscle, bone, joints) harmony. The word "harmony" is used in English, but in Chinese, the word "he" means joining, uniting, as well as harmonizing. The standard explanation goes like this:  The body harmonizes (or unites) with the heart(mind), the heart with intention,  intention with        qi, qi with shen [spirit], spirit with movement, movement with kong [emptiness].
I have heard several other sets of 6 harmonies, linking various pairs or trios of joints. Master Moy also proposed his own set of 6 harmonies: The internal harmony between jing, qi, shen (generative, vital and spiritual energy) and external harmony (eyes, ears and throat/mouth/nose system).   
More can be (and has been) said about all this, but which ever way these sets of "harmonies" are explained, they only evoke (rather than describe) a trained ability to move made possible by a particular focusing of the mind. My experience is that the notion of six harmonies provides a general sense of movement and analytical framework, helpful to guide and measure our progress, but what this means in practice can only be really understood through regular training.
 
The eight methods are listed as qi (energy), gu (bone), xing (form), sui (following), ti (rising), huan (returning), le (restraining), fu (lying in wait).   While the last five refer to movement principles, the first three refer to training focus: inner circulation, bone structure, proper alignment of postures.
Philippe Gagnon
January 14, 2014
---
---
About Philippe Gagnon
Philippe Gagnon – 'taijiquan' biography – October 2012
Philippe was introduced to the internal arts* of Master Moy Lin-shin in Montreal at the age of 18. He trained under Master Moy (and with many of his prominent students) from 1975 until 1998, when Master Moy passed away. In the earlier years, Philippe also explored different training methods, receiving instruction from respected Wu and Yang style taijiquan masters in Canada and Taiwan. Between 1976 and 1983, Philippe taught extensively in Montreal, but also travelled regularly to other cities to help create training centers in Quebec. He was also initiated to the syncretic teachings (Confucian, Buddhist and Daoist) and meditation practices of the Fung Loy Kok temple, co-founded in Hong Kong (Tsuen Wan) by Daoist priest Mui Ming-To and his wife Tang Yuen-Mei, with whom Master Moy shared spiritual roots.  From 1983 to 1989, Philippe lived in China (Wuhan, Hong Kong), a period that provided a rich experience of encounters with masters and practitioners of several styles. Philippe continued to train with Master Moy during their reciprocal travels to Canada and Hong Kong, but Master Moy also introduced him to one of his original teachers, Master Sun Di (Sun Zhi), himself a prominent student of Master Liang Zipeng, in particular to learn the second half of the Lok Hup (Xinyi Liuhebafa) sequence and experience some of the pushing-hands for which Master Sun was famous. During that period, Philippe taught local classes and also regularly attended at the Fung Loy Kok temple in Tsuen Wan. 

Philippe returned to Montreal at the end of '89 and served as a prominent instructor and legal advisor at Master Moy's original school, teaching across Canada and also coordinating the national merger of numerous local groups into a single organisation. He also served several years as president of the Canadian Fung Loy Kok institute of Taoism, which he helped to restructure under Master Moy's guidance. In the 1990s, he accompanied Master Moy at international workshops in the US and in Europe, both as instructor and organisational advisor for local groups. At the request of Master Moy, he also conceived and implemented the transnational legal and intellectual property structures that would enable the school to grow internationally. He was often trusted as international 'troubleshooter', handling delicate situations involving training quality, internal conflicts, organisational growth issues as well as legal matters. After Master Moy's death in 1998, Philippe continued to work nationally and internationally for several years as an advisor and instructor, until he left the organisation in 2008.  Since then, Philippe has conducted an in-depth exploration of Master Moy's legacy, working with many people who had studied closely with him, but also exploring mindfulness-based spiritual traditions, researching the theory and historical development of taijiquan and consulting with scholars while travelling extensively in Asia and Europe. Philippe wishes to help carry forward the contributions of Master Moy, with particular emphasis on the health gymnastic and spiritual dimensions of taijiquan.

Philippe graduated from McGill University's department of East Asian Studies and Law faculty, and holds a Masters degree in law from the University of Wuhan in China. He has pursued a career as legal advisor to companies and non-profit organisations alike.  Father of three children and happily remarried to Italian scholar Chiara Letizia (Professor of South Asian religions), he has now resettled in Montreal.

* taijiquan, taiji sword, taiji sabre, Xinyi liuhebafa, xingyiquan, neigong, etc.
---
---
ACCOMMODATION OPTIONS IN NANAIMO (Note that TCNA provides this info for your convenience. We can not be responsible for your experience with these businesses)
Grand Hotel Nanaimo
$$$$$
very close to Oliver Woods Community Centre, the venue for Level 3
Inn on Long Lake
$$$$$
also very close to O.W.; lovely location on a lake
Best Western Northgate Inn
$$$$$
still very close to O.W., near north end of Nanaimo; highly rated, but located next to busy highway
Ramada Inn Nanaimo
$$$$
an extra 10 min. drive; fairly new; next to highway
Travelodge Nanaimo
$$$$
close to Ramada; well-rated
Budget accomodations below all appear clean and good for a sleep-over. The first five are located within 4-block stretch along busy Terminal Avenue (close to the Ramada Inn and the Travelodge); an extra 10 min. drive to Qi Gong venue.
Castaway Motel
$
Royal Motel
$
Port-O-Call Motel
$
Colonial Motel
$$
Bluebird Motel
$
Departure Bay Motel
$
very clean, only about 5 min. extra drive; also next to busy hwy
---
More to Follow.................................